Horse racing betting is one of the oldest and most popular types of betting in the modern world, and continues to draw in millions of punters every year.
Due to its age and commonality, many of the horse racing bets that bookies offer are easily recognisable, and provide the perfect betting way for new punters to learn about the betting world and how it functions.
If you're new to the scene and you're looking for a sport to start betting on, horse racing tends to be the best way to start. It covers a wide range of bets, offers deep insight into the nature of bookmakers and how they control the odds and shape the betting world, and it allows you earn the valuable experience you need to find more success in the future.
It's a long shot from pokies online, but will nonetheless provide the same thrills and excitement. For new punters, these are the most common horse racing betting types.
1. Eachway
An eachway bet is possibly the most popular bet on the market, and the perfect way to break into the punting scene. It's about as simple as they come: you place a wager on a horse, and you win that wager if the horse you bet on crosses the finish line first.
You can also earn a Place payout if the wagered horse finishes in second or third place, but the payout tends to be much lower. This is a bet you will find being offered by all bookmakers.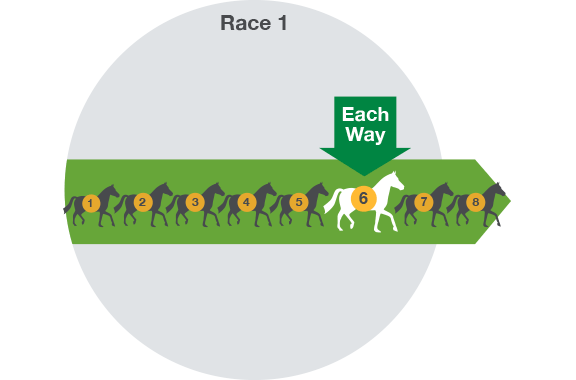 2. All To Come
Slightly more advanced than the eachway, and advised for those that have some experience in horse racing betting, and have done some research into the horses they wish to bet on. Here, you place money on horses that are taking part in different races at the same time.
It's also known as an accumulative bet, meaning that you stand to earn more from a series of bets instead of just one. It should be noted, however, that losing just one bet can put an end to the entire accumulative bet.
3. Swinger
A favourite among horse racing punters. Here, you pick two horses from any given race, which are then coupled into a swinger.
You win the bet if the two horses fill two of the top three places. There are three different winning combinations for this bet: 1st and 2nd; 1st and 3rd, and 2nd and 3rd.
4. Double
This is comprised of picking the winners of two consecutive races.
The first of the two races in the double is known as Leg 1, while the second race is called Leg 2. You win should both winners finish their consecutive races in your chosen position.
5. Exacta
This is a bet where you wager on chosen horses to finish in first and second place. It's usually split into three choices: Single, perm, and box.
It's a bet that's much more seasoned to an experienced punter.